Our Purpose: the prevention of childhood obesity and reduction of the long-term risks for chronic disease.
Our Goal: to target childhood obesity and to improve the nutritional health of public school children by expanding MyPlate! The New Food Guide Musical Program.
MyPlate! The New Food Guide Musical Program is a ten week program for grades 3 through 5 consisting of three one hour classes per week.
Each class devotes half an hour to hands-on nutrition lessons and the remaining half hour to exercise in the form of a musical theater rehearsal. All nutritional information is based on the USDA MyPlate Guidelines and run by a Registered Dietitian.
The program culminates in a performance of 100 participating students and three professional Broadway actors in an original musical," MyPlate! The New Food Guide Musical" performed before assemblies of 1st to 5th graders, parents and family. Students participate in musical numbers representing the 5 food groups and exercise.
Following the performance, student participants from each class are awarded prizes for essays they've written on what they've learned about nutrition and exercise.
The Dietary Program at California State University at Northridge, CA which contracted our initiative to be implemented in LA, conducted evaluations of our program's effectiveness at several elementary schools. Data collected from their research studies yielded excellent, statistically significant results pre and post testing.
Our program is successful because children are responsive to an entertainment vehicle and actively participate in projects they care about. The repetition of nutrition information and exercise through the rehearsal process and nutrition classes helps students learn and retain information.
FNCE Dietetics Convention Presentation
Chicago October 2017
UEDA 2017 Awards Ceremony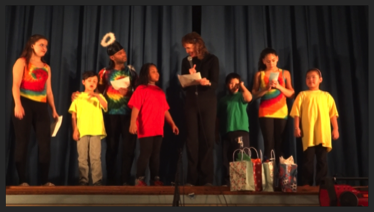 Students' Essay Prizes Presentation